Intro to Livestreaming
Create an amazing livestream and perform your music for the world.
Livestreaming has become a crucial part of any musicians toolkit, allowing artists to perform live from home and directly connect with their fans around the world.

This course will introduce you to the fundamentals of livestreaming.



We'll cover how to set up your Ableton Live session (or other DAW) for streaming, route high quality audio, how to blend multiple video and audio

sources

, stream with multiple computers, add visuals and green screens, and even use Zoom to create conference-style streams.

By the end of the course, you'll have all the tools you need to create the livestream of your dreams.
Let's get started!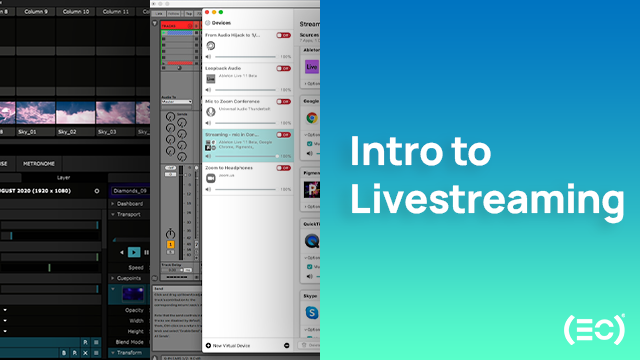 Course features
2 Modules

14 Videos

01:28:08
Recommended Gear and Software
Audio interface

Computer GPU with 2GB VRAM or more

Webcam or Smartphone with EpocCam or NDI HX

Ableton Live 10 or newer * Suite recommended

OBS (Open Broadcast Software)

Rogue Amoeba Loopback (macOS)
ASIO4ALL + Soundflower (Windows)
MEET YOUR INSTRUCTOR
Laura Escudé
Laura Escudé is a producer and sound artist creating magic through music, tech, and consciousness. She is an innovator, entrepreneur, and live show designer with a deep understanding of complex technology and a profound passion for music and art. Fusing tech with art is her superpower.

Synthesizing her skills as a classically trained violinist and technical prowess as an avant-garde electronic producer, Escudé infuses Neo-classical and sleek futuristic style with raw emotion elicited with her musical machines. She has performed her live electronic show at numerous festivals and events, including Osheaga, Ondalinda, and NAMM. Using technology to advance their fields, Escudé and two other female pioneers are key artists featured on Hello Sunshine + HPE's documentary "In Her Element".

Since becoming the first Ableton Certified Trainer back in 2008, Laura's career highlights include designing shows for Kanye West and Jay Z, opening for Miguel on his 2015 Wildheart tour, building a thriving international business populated by top-tier professionals, and developing premier educational programs accessed around the globe.

After a tour burnout landed Laura in the hospital back in 2016, she was forced to take a break from work and focus on her health. This physical, mental, emotional, and spiritual process involved letting go of unproductive habits and thought patterns, facing her fears, and giving up aspects of her life that no longer served her. The experience inspired Laura to help artists accelerate their live performances using technology, while securing a safe place that encourages their own health and well-being.
Lecture-style means the videos in this course consist of Laura and/or AJ speaking and demonstrating the knowledge over slide screenshots, live Ableton Live sessions, and/or video recordings.
MASTERTRACK LIVE SUMMIT IS HAPPENING FEBRUARY 2024 IN
LOS ANGELES
The premiere event for music producers and playback engineers who want to evolve their craft, expand their network, and learn how to gig like a pro.
Created with