Playback 101
The essential starting point to learning about the world of playback engineering.
In Playback 101, you'll venture into the world of professional playback engineering,
taught by the minds behind some of the biggest shows in the world.
(Kanye West, American Idol, Ariana Grande, Camila Cabello, Porter Robinson, and more.)
You'll learn the different roles a playback engineer can take on, see different Ableton session rundowns for

numerous

types of live shows and use cases, and learn about building your own template from scratch to suite the needs of your show.
Are you ready to begin your journey into playback?
Let's get started!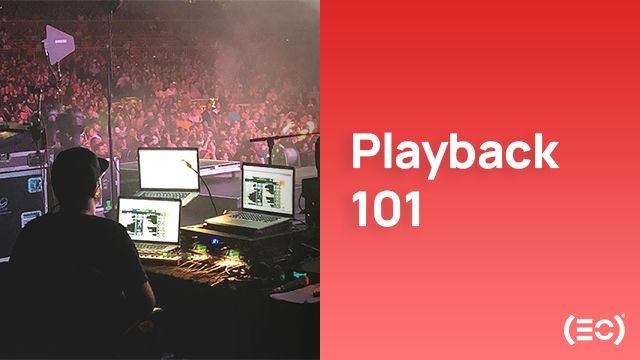 Course features
2 Modules

14 Videos

02:36:10
Recommended Gear and Software
Audio interface

* 4 or more audio outputs

Ableton Live 9 Suite

* or newer

Setlist app
Get Playback 101 and
Hardware & Sessions
Get Playback 101 and
Hardware & Sessions
together and save! Hardware & Sessions goes deep into the sessions and hardware of the playback world. You'll learn the how's and why's of building a session for any circumstance and explore different types of gear and configurations that EC deploys around the world to give stable, and reliable, results show after show. Touring tips, file management, live levels, and routing - it's all in there.
MEET YOUR INSTRUCTOR
AJ Ramirez
AJ is a producer, musician, audio/playback engineer, and visual creative from California. With a background in both music and visual arts, AJ got his start gigging on guitar around Austin while working in art direction. He wound up in Valencia, Spain where he studied at Berklee College of Music, thereafter coming to LA, where he has since worked with artists like Ariana Grande, Harry Styles, 30 Seconds to Mars, Modest Mouse, Reggie Watts, Logic, AlunaGeorge, Big Sean, Meek Mill, Anderson Paak, Cory Henry, Morgxn, Ava Max, Elephant Heart, Yeah Yeah Yeahs, and more.

He joined EC in 2017 and has helped grow it into the team it is today. From actively gigging and touring, to heading production design on all EC's rigs and internal technical and business structure, he is a proud core member of the growing EC community.

He additionally works with XR Studios in the virtual production space, and with Output Arcade as a sound designer. From 2018-2021 he co-managed Multihouse Studios, a hybrid art and music space in DTLA, but now works out of a private studio. He continues to write music and produce artists, and has also worked on projects involving 3D audio in theatre such as Cages DTLA.
MEET YOUR INSTRUCTOR
Laura Escudé
Laura Escudé is a producer and sound artist creating magic through music, tech, and consciousness. She is an innovator, entrepreneur, and live show designer with a deep understanding of complex technology and a profound passion for music and art. Fusing tech with art is her superpower.

Synthesizing her skills as a classically trained violinist and technical prowess as an avant-garde electronic producer, Escudé infuses Neo-classical and sleek futuristic style with raw emotion elicited with her musical machines. She has performed her live electronic show at numerous festivals and events, including Osheaga, Ondalinda, and NAMM. Using technology to advance their fields, Escudé and two other female pioneers are key artists featured on Hello Sunshine + HPE's documentary "In Her Element".

Since becoming the first Ableton Certified Trainer back in 2008, Laura's career highlights include designing shows for Kanye West and Jay Z, opening for Miguel on his 2015 Wildheart tour, building a thriving international business populated by top-tier professionals, and developing premier educational programs accessed around the globe.

After a tour burnout landed Laura in the hospital back in 2016, she was forced to take a break from work and focus on her health. This physical, mental, emotional, and spiritual process involved letting go of unproductive habits and thought patterns, facing her fears, and giving up aspects of her life that no longer served her. The experience inspired Laura to help artists accelerate their live performances using technology, while securing a safe place that encourages their own health and well-being.
Created with