Build Your Set &
Design Your Rig
Use knowledge and techniques developed and
refined

on some of the biggest shows in the world to design and construct the software and hardware side of your live performance setup.

In this Course, you'll learn how to build your performance session in Ableton Live and configure the hardware setup needed to use it for performance .

In the first module, you'll dive into Session and Arrangement View, file organization, preferences optimization, and arranging and mixing. You'll also see session examples from Kanye West, AlunaGeorge, Porter Robinson, Silversun Pickups, and Laura Escudé.

In the second module of this Course, you'll dive into session routing, audio interfaces, multi-channel outputs, monitoring, MIDI and audio, redundancy and rig documentation/organization.

You'll also get access to Resource Packs containing Ableton Live sessions, show utilities, diagrams, and more.

You ready?

Let's get started!

(If you've taken our

Perform Your Music with Ableton Live Course

, Build Your Set & Design Your Rig goes deeper on these topics of show design.)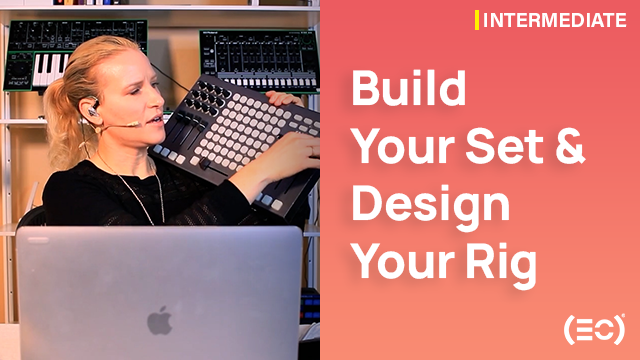 Course Features
3 Modules

30 Videos

03:53:36
Recommended Gear and Software
Audio interface

* 4 or more outputs and 1 or more inputs

MIDI controller

Studio monitors, headphones, or in-ear monitors

Ableton Live 9 or newer

* Suite recommended
MEET YOUR INSTRUCTOR
Laura Escudé
Laura Escudé is a producer and sound artist creating magic through music, tech, and consciousness. She is an innovator, entrepreneur, and live show designer with a deep understanding of complex technology and a profound passion for music and art. Fusing tech with art is her superpower.

Synthesizing her skills as a classically trained violinist and technical prowess as an avant-garde electronic producer, Escudé infuses Neo-classical and sleek futuristic style with raw emotion elicited with her musical machines. She has performed her live electronic show at numerous festivals and events, including Osheaga, Ondalinda, and NAMM. Using technology to advance their fields, Escudé and two other female pioneers are key artists featured on Hello Sunshine + HPE's documentary "In Her Element".

Since becoming the first Ableton Certified Trainer back in 2008, Laura's career highlights include designing shows for Kanye West and Jay Z, opening for Miguel on his 2015 Wildheart tour, building a thriving international business populated by top-tier professionals, and developing premier educational programs accessed around the globe.

After a tour burnout landed Laura in the hospital back in 2016, she was forced to take a break from work and focus on her health. This physical, mental, emotional, and spiritual process involved letting go of unproductive habits and thought patterns, facing her fears, and giving up aspects of her life that no longer served her. The experience inspired Laura to help artists accelerate their live performances using technology, while securing a safe place that encourages their own health and well-being.
Created with